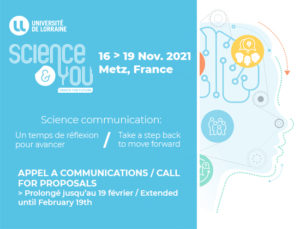 Science&You 2021: "Science communication: take a step back to move forward" – opened call for session proposals
The University of Lorraine is organizing the next edition of Science&You (http://www.science-and-you.com/en/colloque/who-we-are), a major international science culture event targeting professionals (researchers, PhD students, heads of museums and science centers, science communicators and journalists…) and open to the general public, from 16 to 19 November 2021 in Metz (France). Science&You aims at mixing research and practice in science communication, popularization and engagement.
In this context, a call for proposals is open until February 19th, 11:59PM (GMT +1). The theme of the Conference is "Science communication: take a step back to move forward".
The event will therefore give the floor to stakeholders from any field involved in the mediation of science that will share their experience and good practices.
Submitted proposals will then be evaluated by Science&You's Scientific Committee, which is composed of international experts in science communication, science engagement and science/society stakes and issues, and that is presided over, the Professeur Martin W. Bauer, London School of Economics and Political Science.
Both official languages of the Conference are: English and French.
For more details on the communication call, you can check:
[Fr]: http://www.science-and-you.com/fr/appel2021