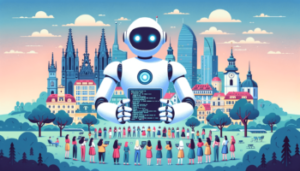 A hackathon for girls and women in Prague
You are a woman (17+), curious about new technologies and willing to make an impact?
Experience with generative AI or AI coding tools to bring to life new ideas and solutions to the world.
All profiles welcome: from no prior knowledge to tech-savvy!
42 Prague, Kolbenova 1021/9, 190 00 Praha 9.
December 15th (evening) to December 17th, 2023
Artificial intelligence is revolutionizing our societies, and can now be found in all sectors. If used properly, it can help meet the major challenges of our time: ecological transition, health, etc. It is also a source of new professional opportunities. Yet women are very poorly represented in this sector, both in universities and in the corporate world.
Are you interested in these new technologies but have no previous experience in the field? You want to help develop inclusive AI-based solutions to today's challenges? You want to contribute to making the tech world a more diverse place?
From December 15th (evening) to 17th, 2023, La French Tech Prague, with the support of the French Embassy in the Czech Republic, is organizing a Hackathon around artificial intelligence for young girls (17+) and women in 42 Prague. Participants will be able to work on any projects falling into 2 categories:
Coding project using AI techniques (machine learning, computer vision, etc)
Creative projects using Generative AI tools (ChatGPT, Midjourney, no-code, etc) not requiring coding skills.
As part of the hackathon, teams will be given access to Generative AI tools for a limited period. Many prizes are to be won !
Learn and receive support from experienced technical and business mentors : Senta Cermakova, Magdalena Radová, Anastasia Boussier, Geda Stava, Mia Smatanová, Klará Janoušková, Tereza Tizkova and more to be announced !

---
A workshop will be held on November 28th from 6pm to 8pm at the French Institute in Prague: this will be a general briefing on the hackathon and AI tools to help you prepare for the Hackathon. Participation is highly recommended.
On December 15th, another meeting is organised to pitch the projects and create the teams. Mixed profiles teams (in terms of age and experience) will be encouraged.
Registration is open until November 20th here!
Registration is mandatory, and the number of participants limited. The organizing committee reserves the right to select participants in the event of too many registrations.
The rules of the Hackathon and its code of conduct are available here.